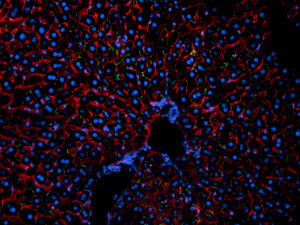 Research in gastrointestinal and liver diseases is active in the UCSF Division of Gastroenterology. The division has a longstanding reputation for excellence in hepatology research and has a growing investigative program in luminal gastroenterology. Faculty in the Division of Gastroenterology contribute to discovery in several areas, ranging from the identification of basic mechanisms of GI disease, to the improvement of outcomes following liver transplantation, to the optimization of GI care in resource-poor settings. The division also provides comprehensive training in GI research through its postdoctoral programs.
In addition to conducting research within their home division, GI faculty are active in research organizations in the larger UCSF community. They form the administrative and scientific foundation of the UCSF Liver Center, an organization that supports liver research across the UCSF Schools of Medicine and Pharmacy. GI faculty also play active roles in the interdisciplinary research and training programs of the UCSF Clinical and Translational Sciences Institute. Through research collaborations, GI faculty interact with investigators in a number of other research units at UCSF including the Helen Diller Family Comprehensive Cancer Center, the Diabetes Center and the Cardiovascular Research Institute.
UCSF GI faculty are recognized nationally and internationally for their scholarly contributions to gastroenterology. They are represented among the leadership of several national GI societies including the American Gastroenterological Association, the American Society for Gastrointestinal Endoscopy and the American Association for the Study of Liver Diseases.