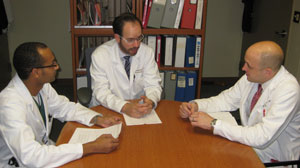 Two formal division-wide conferences take place weekly at the Parnassus campus: Gastroenterology Grand Rounds and the GI Fellows' Course.
All aspects of clinical gastroenterology and hepatology are discussed in depth at these conferences, and attendance is required for fellows. The GI Fellows' Course (July-December) is a unique case-based learning experience in which faculty members discuss topics essential to a strong foundation in gastroenterology and hepatology. GI Grand Rounds is an enrichment program highlighting clinical and research advances in gastroenterology and hepatology interspersed with clinical-pathologic conferences. Visiting professors from around the U.S. are featured as Ground Rounds speakers approximately once per month.
Supplementing these conferences are monthly journal clubs and research conferences designed specifically for GI fellows. The individual teaching hospitals also offer patient-based conferences covering medical and surgical GI care, GI radiology and GI pathology, as well as special sessions covering biliary and liver disease.