Research in Liver Disease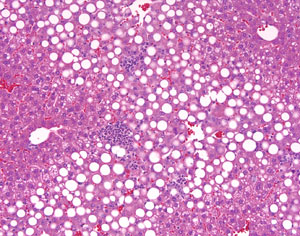 Faculty in the UCSF Division of Gastroenterology are leaders in scientific discovery pertaining to liver biology and disease. Their work focuses on genetic and environmental factors that impact liver disease, as well as risk factors that influence disease outcomes and responses to treatment.
Research efforts in the division span "bench to bedside" – and benefit from a close connection between laboratory-based and clinical research faculty. Liver-focused faculty in the GI division are fully integrated into the multidisciplinary UCSF Liver Center.
Basic Science Research in Liver Disease
Fatty liver disease. GI faculty investigate how dietary nutrients and alcohol cause fatty liver disease and how specific fats lead to liver injury. (Jacquelyn Maher, James Ryan)
Inherited cholestatic disorders. GI faculty are searching for genetic factors that cause jaundice and chronic liver disease in children as well as jaundice in pregnant women. (Laura Bull)
Liver stem cells. GI faculty and collaborators study stem cells in the liver and other organs, including means to differentiate stem cells into mature liver cells for the treatment of liver disease. (Bruce Wang, Holger Willenbring)
Viral hepatitis. GI faculty investigate immune responses to hepatitis viruses and how the immune system regulates virus-induced liver disease and viral clearance. Collaborators study how the virus replicates in liver cells. (James Ryan, Jody Baron)
Patient-oriented Research in Liver Disease
Acute liver failure. GI faculty are investigating means to identify the cause of acute liver failure and study how specific treatment interventions impact patients with liver failure.(Bilal Hameed)
Fatty liver disease. GI faculty are engaged in studies to improve the diagnosis and treatment of fatty liver disease and identify risk factors for disease progression. (Bilal Hameed, Danielle Brandman, Jennifer Price, Monika Sarkar, Mandana Khalili). Please see link below for an article on pregnant women and fatty liver disease.
https://www.ucsf.edu/news/2020/06/417806/pregnant-women-fatty-liver-disease-face-worse-outcomes
Health services research in liver disease. GI faculty assess how ethnic and social background affects patient understanding of liver disease and influences access to care and patient decisions about medical treatment. (Mandana Khalili)
Liver cancer. GI faculty study outcomes of liver transplantation for liver cancer and assess the efficacy of treatments designed to improve eligibility for transplantation in the setting of liver cancer. (Courtney Sherman, Francis Yao, Neil Mehta, Mandana Khalili)
HIV/HCV co-infection. GI faculty investigate how co-infection with HIV and hepatitis viruses impacts liver disease progression. (Jennifer Price, Mandana Khalili)
Liver transplantation. GI faculty study many factors affecting outcomes of liver transplantation including gender, age, hepatitis infection and liver cancer. They also study the development of fatty liver disease after liver transplantation. (Bilal Hameed, Danielle Brandman, Francis Yao, Jennifer Lai, Monika Sarkar)
Viral hepatitis. GI faculty study the epidemiology and natural history of viral hepatitis and how immune factors affect responses to hepatitis viruses. They also investigate the impact of viral hepatitis on the development of metabolic diseases such as diabetes, and how viral hepatitis influences outcome after liver transplantation. They are actively involved in treatment trials of new antiviral agents. (Alexander Monto, James Ryan, Jennifer Price, Mandana Khalili).